If there's one promise President Rodrigo Duterte made sure to keep in his first year in office, it was to put behind bars his fiercest critic, Senator Leila de Lima. (READ: Duterte: De Lima will surely go to jail)
It was a reversal of fate unlike any other. From being a sought-after election lawyer, human rights commission chief, and Department of Justice (DOJ) secretary, De Lima is now confined in a tiny, humid prison cell, heavily guarded by police and closed-circuit television cameras everywhere, over drug charges.
As Commission on Human Rights chairperson, she probed Duterte in 2009 for his alleged links to the so-called Davao Death Squad. Eight years after, she is still reaping the seeds of Duterte's "revenge" as she calls it.
Common friends and acquaintances repeatedly warned De Lima to slow down on her criticism of Duterte when they were both elected to office in 2016, but the senator refused to heed them. She said she had expected the "strong wave" of backlash, only to realize later on that the worst was yet to come.
"But I never, for a single moment, ever imagined that he would be this vindictive. I never anticipated that I would be imprisoned ever. I was a DOJ secretary. I was putting people behind bars. Now, I am here. Prinoject ako (It was their project to bring me down)," De Lima told Rappler recently.
"Dati pa s'ya may galit sa akin, lalo ko pang ginalit (He had held a grudge against me, and then I angered him all the more) with the Senate hearing, plus [Edgar] Matobato, [Arturo] Lascañas. He really got pissed off. I knew he would not be taking it sitting down but not to this extent," said the senator. She was referring to the two witnesses who implicated Duterte in summary executions when he was Davao City mayor.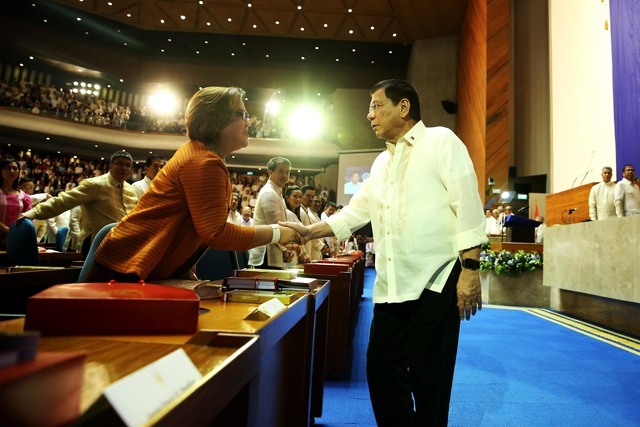 Those who visit De Lima are pleasantly surprised to see the embattled senator in her usual feisty and upbeat self. Some visitors said the senator faced them looking not an inch as a detainee, but more as a host. De Lima has repeatedly said she does not want to give her critics the satisfaction of seeing her suffer.
But how long will the ordeal last, nobody – not even the senator – could answer definitively. It is a reality she has accepted early on.
"Each day I spend here, I'm getting less and less confident that I will be freed" she said. "I don't think he can afford that I be released at this time. It will be a huge blow to him. He is projecting to be a strongman. It is a huge slap on his face."
Nevertheless, the senator said the fight is far from over. Asked if she has forgiven the President, she said the time for that has yet to come.
"There is a time to forgive. And this is not that. This is the time to keep on fighting for truth, justice, human rights, and the rule of law. I have to keep myself focused on what needs to be done, what needs to be said, and what our people need to know. Everything else is a luxury I cannot afford to engage in," she said.
Life inside jail
For a career woman who had been used to the fast-paced life, she has no choice now but to slow down, "read and reflect" to no end.
"It's a very routinary daily life now for me," De Lima said when asked to describe what her usual day inside the Philippine National Police Custodial Center in Camp Crame.
It's a simple life inside her cell. She has her own bathroom, a single bed, a stand fan, a table and chair, 4 small plastic boxes for her clothes, a full-length mirror, a pail of water, a dipper, a hot-and-cold water dispenser, and a tiny cooler, which her staff fills with store-bought ice every day.
Her staff brings her homecooked food daily, for fear of her being poisoned with food served at the custodial center.
"I am not complaining because this is a relatively livable life compared to those inside ordinary detention [facilities]," she said.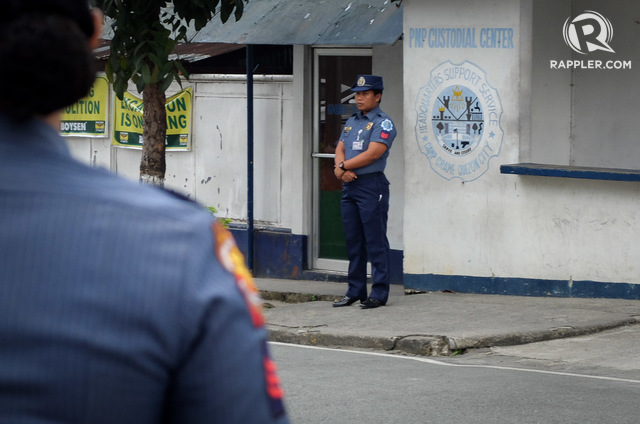 Her day usually starts at 5 am. The senator says she does walking exercises and calisthenics in the morning before taking her breakfast. This is also the time for her to read newspapers and printed online news stories prepared by her staff.
De Lima also spends most of her time reading books. At present, she is into John Grisham's Rogue Lawyer.
She tries to get on with her duties as a legislator by filing bills and resolutions, but she is prohibited from voting on measures. (READ: De Lima to seek court nod to join Senate debates)
"Then back to reading and working on documents delivered to me by my staff the previous day. There are days when I hold meetings with my key staff, individually and collectively," De Lima said.
All these she does manually, as computers, laptops, and mobile phones are prohibited inside.
"I take power naps, 30 to 45 minutes, once in a while, in between long-hour readings. Visitors, mostly in groups, would come during visiting hours," she said.
The senator meets her visitors in a "visitor's hall," which was painted and constructed ahead of the Inter-Parliamentary Union's visit to check on De Lima's condition in May.
By 5 pm, when visitors are made to leave, she's back to having only stray cats for companions. It is the time when reality haunts her the most.
"This is the time when I'm most focused on my reading – various books, from serious to light stuff. I'm most vulnerable to my emotions right before bedtime. Sometimes, I cry when I say my final prayer for the night," she said.
It was also in jail where the senator tried new things. She has considerably lost weight because of exercise and has tried a different or, in her own words, "shocking" hair color.
In one of her notes after minority senators visited her, De Lima wrote about how her colleagues must have been surprised with her "very short" haircut with matching "striking color." It was a mixture of shades of orange, red, and yellow.
As if the ironies are not enough, De Lima is staying in the same custodial center as former senators Bong Revilla and Jinggoy Estrada, whom she charged for the multibillion pork barrel scam when she was justice secretary.
Asked about it, De Lima said she has not seen them, as their cells are on the opposite end of the compound.
"No. I don't even know where exactly they are in this facility. I don't think seeing and talking with each other will ever happen. It's my preference," she said.
...[ Continue to next page ]
Share This Post