YouTube star Logan Paul has dived straight back into life on the video sharing platform but his latest output is still causing controversy.
Paul, who has only just returned to making vlogs following his 'suicide forest' scandal, has now been accused of insensitivity again, this time after making fun of dead animals. You'd think the guy would have learnt by now.
In his latest video uploaded to his channel, Paul is shown firing a taser at two dead rats after their bodies had been left on the balcony of his mansion in Los Angeles, California.
"I'd love to say Logan Paul has changed and learnt to respect dead things since coming back on YouTube," Twitter user Elliot Hackney said. "But now he's just tasering them instead."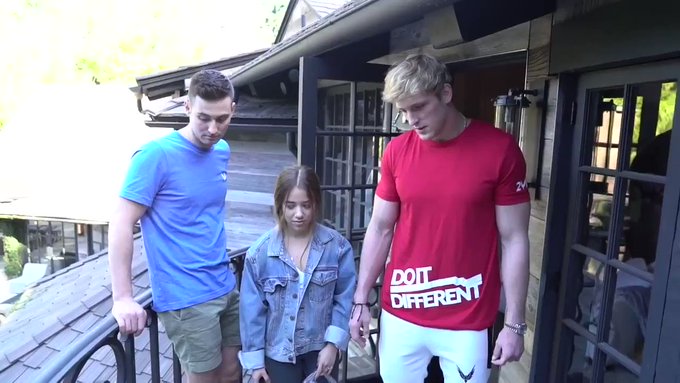 The video shows Paul lifting the corpse of a rat using the taser's conductive wire after shooting it before placing it in a cardboard box. "No rat comes into my house without getting tased!" Paul says.
In the next scene, Paul fires the taser at the rats again, seconds after they have already been thrown into the bin by a more sensible friend.
I'd love to say Logan Paul has changed and learnt to respect dead things since coming back on YouTube.

But now he's just tasering them instead 🤷🏻‍♂️🤷🏻‍♂️🤷🏻‍♂️ pic.twitter.com/KneIyDYxVO

— Elliot Hackney (LMcK) (@ElliotHackney) February 6, 2018
Logan's latest vlog also shows the Pauls' dad Greg saying that he's 'totally on board' for fighting KSI in an MMA-style fight after the British boxer called the family out after a fight in London. That's going to end well, isn't it?
Paul's latest video didn't go down well with some people on social media who are clearly tired of Paul's antics.
"I care more about dead rats than I do about logan paul," one guy said.
"Yo Yo @KSIOlajidebt do the needful bro," someone else said, implying that KSI should lay the smackdown immediately.
WATCH LOGAN PAUL'S APPEARANCE ON GOOD MORNING AMERICA:
Just earlier this week fellow YouTuber PewDiePie tore into Paul for his public appearancessince facing censure last month for making fun of the body of a suicide victim in Aokigahara, Japan.
PewDiePie - real name Felix Kjellberg - accused Paul of trying to be on a 'divine path to redemption', slamming him for being dishonest about what he's learnt from the scandal in order to use it for personal gain.
"Seeing all this track record of dishonesty and doing literally anything to redeem your brand, I'm going to call that out. It seems just too perfect for me," Kjellberg said.
"Logan Paul should just keep making videos and be honest. That would be my advice, and as long as he's not I'm going to call him out on it."
Despite all the criticism he's received, some of Paul's fans still don't seem to see what all the fuss is about.
"You haters will always find something to complain about lol," said one person under the name MavericksUnite - named after Logan's fans, Mavericks - in response to Hackney's tweet.
However you feel about Logan Paul, the controversial YouTuber is back and it doesn't look like anything is going to put him off making more videos.
Share This Post