Oxford Street in the run-up to Christmas is a hellish prospect. Yet, every year, many of us somehow find ourselves there on 23 December, battling through the unhappy, exhausted hoards, desperately attempting to buy enough toot to ensure we never have to buy anything again.
But it doesn't have to be like this – there is another way. Here are some of the best places in the UK for Christmas shopping, to turn the experience from nightmare to great day out.
Bicester Village, Oxfordshire
The UK's second most popular tourist attraction (yes, really) makes for an upmarket Christmas shopping experience. Oxfordshire's Bicester Village (bicestervillage.com) is essentially an outdoor high-end outlet mall – brands such as Prada, Gucci, Armani and Versace jostle for position on the Village's pedestrianised street, all hawking big discounts to counteract the eye-watering original price tags. But for those with a more modest budget there are more pocket-friendly brands to be found; Superdry, Clark's, The White Company, Fossil and the Cosmetics Company Store are all handy for quality presents that won't break the bank.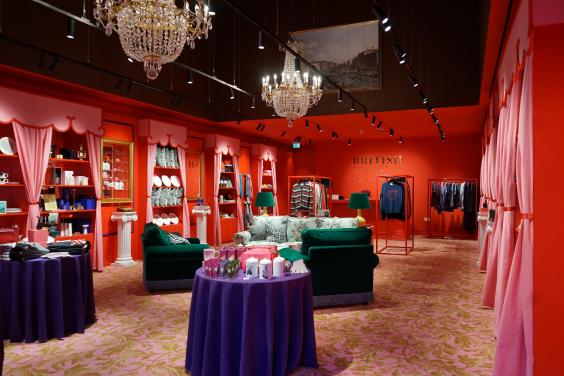 The Village has added 30 new shops to its existing range of 130 boutiques in time for Christmas this year, including the pop-up British Collective. This boutique showcasing more than 30 brands was designed by British interior designer and illustrator Luke Edward Hall, and features UK designers such as Johnstons of Elgin, Trevor Pickett and Czech & Speake.
Staying there
Manor Country House Hotel (themanorweston.com) is a 10-minute drive away. Rooms are spacious with classic country-house decor and there are extensive grounds to stroll around in. Doubles from £140, B&B, including afternoon tea and a Bicester Village discount card.
Chester Rows, Chester
If you like a bit of history with your shopping, check out Chester Rows (visitchester.com), where a new tour for the Christmas period takes you through the history of the shops you're in. The 90-minute experience takes in the highlights of the medieval centre, officially the world's first shopping arcade, including the remains of pillars that were once part of the Roman fortress Deva Victrix, now hidden beneath Pret a Manger. There's also the remains of a Roman hypocaust beneath Spudulike, medieval cellars in Corks Out, and Tudor plasterwork and a 'priest hole' in Sofa Warehouse. Tours run at 2pm on 16 and 21 December, departing from the Town Hall Visitor Centre; £7 per adult.
Staying there
Oddfellows (oddfellowschester.com) is a quirky boutique hotel offering attic rooms in the eaves of its Georgian townhouse setting plus stand-alone baths and a "secret" Victorian walled garden. Doubles from £109, B&B.
Spitalfields, London
You don't have to leave London to have a more enjoyable shopping experience. Spitalfields Markets (spitalfields.co.uk) in East London, once a Sunday-only occurrence, is now open every day, with a host of stalls selling a mixture of the bizarre and the beautiful. Poli & Jo (poliandjo.com) offers a range of upscale, quintessentially British canvas totes while ABookOnOnePage (abookononepage.com) creates prints which feature the entirety of a book on a single sheet. There's also a range of shops, including independent boutiques and bigger name brands – pick up some fancy brews at the London Tea Exchange or edgy eye-shadows from Urban Decay.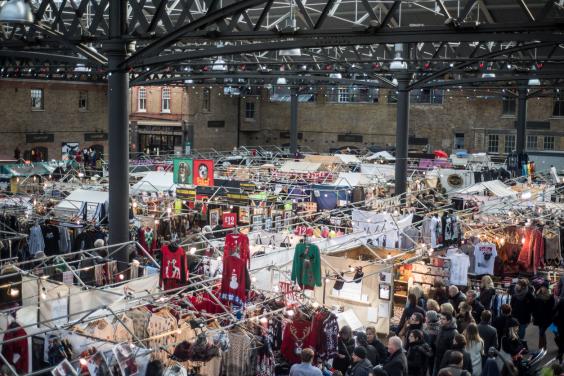 Staying there
The Culpeper (theculpeper.com) is a cool East London pub with five industrial-chic rooms on the floor above. Doubles from £120, B&B.
Victoria Street, Edinburgh
Edinburgh is a delight during the festive period. Stop in at the huge Christmas Market at East Princes St Gardens for gluhwein, cookies and gift stalls before escaping the crowds for cobbled Victoria Street (greatergrassmarket.co.uk), with its colourfully painted independent shops beneath historic stone facades. Rumour has it that it provided the inspiration for Diagon Alley, the wizarding shopping street in Harry Potter, and there's even a Potter-themed shop, Diagon House. Other weird and wonderful spots include joke shop Aha Ha Ha, the Old Town Bookshop and Swish, a stylish clothes boutique.
Staying there
The Grassmarket Hotel (grassmarkethotel.co.uk) on the edge of Victoria Street has jazzy features like Sudoku puzzles and a giant map of Edinburgh on the wall, plus old covers of the Dandy used as wallpaper. Doubles from £80, room only.
Marlborough, Wiltshire
Ranked one of the top 10 shopping centres in the UK in a report this year, Marlborough (marlboroughwiltshire.co.uk) has more than 200 shops, with quality independent shops amongst the brand names - jewellers, clothes shops, gentlemen's outfitters and bookshops for starters. All this is set in a quintessentially English market town. For Christmas there's also a market selling everything from sweets to wreaths, plus a funfair and Santa's grotto.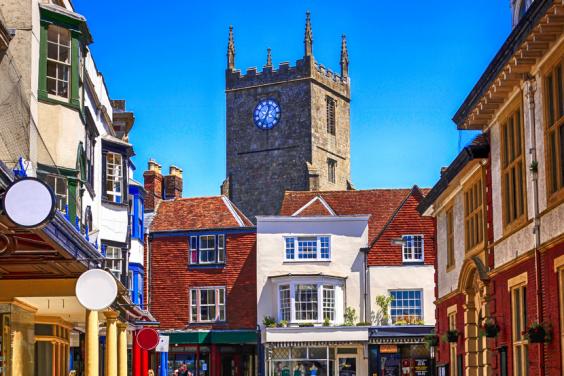 Share This Post