Virat Kohli clarified his stance on unfriending the Australian team, saying he 'meant only a couple of guys' and that his comments were blown out of proportion.
What made the Indian captain change his tune, asks Norma Godinho.
Virat Kohli is a phenomenon, much like his superstar predecessor Sachin Tendulkar.
Adjectives fall short to describe his prowess with the cricket bat.
His records speak volumes of his passion and dedication to the art of batting.
The Indian captain is a superstar in every right. In the just concluded 13 Test home series, Kohli led India to victory to ten of them.
His passion for the sport is unquestioned because it is this very ingredient that has put India on the pinnacle of Test cricket.
But what if that very passion means the eclipse of Kohli as an ambassador of a sport a billion Indians love?
On Monday, after the fourth Test in Dharamsala ended, the skipper declared he is no more friends with the Aussies.
A full two days and following the backlash over his comments about 'unfriending' the Australian cricket team, Kohli took to social media on Thursday to defend his words uttered after the Dharamsala Test.
'My answer at the post match conference has been blown way out of proportion. I did not categorically say the whole Australian team but....,' he tweeted.
'Only a couple of individuals. I continue to be in good terms with the few guys I know & who I've played with at RCB & that doesn't change,' he posted in a second tweet.
On Monday evening, after India won the Dharamsala Test and pocketed the series 2-1, Australian Captain Steve Smith, gracious in defeat, apologised for the bad blood during the series, indicating that he wanted to bury the hatchet and get on with life.
Smith offered a round of beers to India's stand-in Skipper Ajinkya Rahane and the Indian team, a gesture reportedly turned down by the hosts.
Had Kohli accepted Smith's olive branch that night, things would have calmed down.
I wonder if Kohli takes himself too seriously. I wonder if he has let the Indian team's recent successes go to his head.
Balwinder Singh Sandhu -- the Indian pacer who memorably bowled Gordon Greenidge in the 1983 World Cup final and set up that historic triumph -- is supportive of the captain.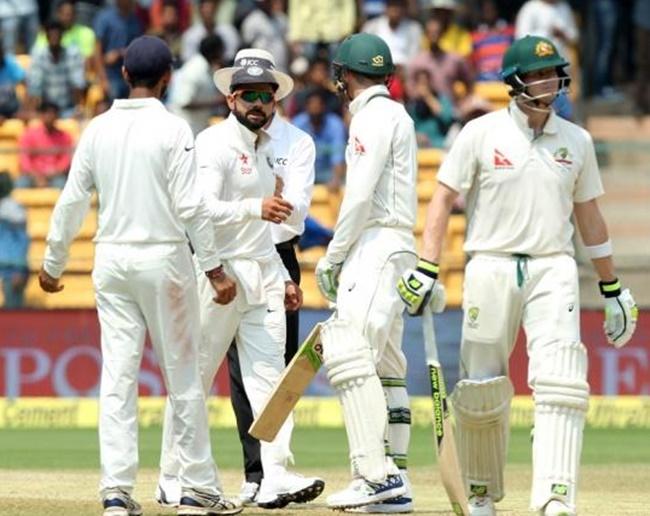 "I'm fine with sledging as long as it's not personal," Sandhu told me.
"I guess they said something personal to Kohli that is why he got under their skin."
"And why is Smith saying sorry now? The Aussies don't like to take sledging from anyone. We have learnt to hit them back. Sunil Gavaskar did that in the past, but he did not get support," Sandhu, Sunny's former India and Bombay team-mate, recalled.
"It's good Kohli gets that backing. India play fairly, it's always the Aussies who start these mind games. They target players and go after them. They make statements in their press against certain players. But India is paying back now," Sandhu said, acknowledging Kohli's aggressive style.
Austin Coutinho, formerly a fast bowler and now a cricket columnist, felt the Aussies, before the series, made no bones about provoking Kohli. The captain, on his part, said he isn't affected by what others say about him.
"He said the Indians would play aggressively and give it back to the Aussies as far as sledging was concerned," Coutinho said.
"During the series, he was often seen provoking the opponents, even mouthing expletives," Coutinho added. "This was perfectly fine, looking at who the opponents were."
"But it looks as if Kohli was affected by the provocation and failed in the three Tests that he played, Coutinho said.
"He laughed and enjoyed it when Ishant Sharma made faces at Smith or when Ashwin pointed his finger at his temple, mocking (Mitchell) Starc. But (Glenn) Maxwell's mimicking his (Kohli's shoulder) action after the injury was made into a major issue."
"All the rancour during the series," Coutinho felt, "was part of both teams' strategy, as openly declared by them."
But Coutinho was unhappy that the Indians turned down Steve Smith's invitation for a drink.
"This, I believe, is being churlish and not cricket at all," Coutinho said. "Sport is meant to be fought hard on the field and then being friends off it. The Indian skipper, a role model for young Indians, isn't playing it right!"
But Virat is now singing a different tune.
With the Indian Premier League just around the corner, a change of stance was bound to happen.
He couldn't afford to be rigid. He had to show that he is a grown man (yes, matured in two days:))). The IPL is big money after all.
The Royal Challengers Bangalore, the team Kohli leads in the IPL, has three Aussies in the squad -- Shane Watson, Travis Head, Billy Stanlake.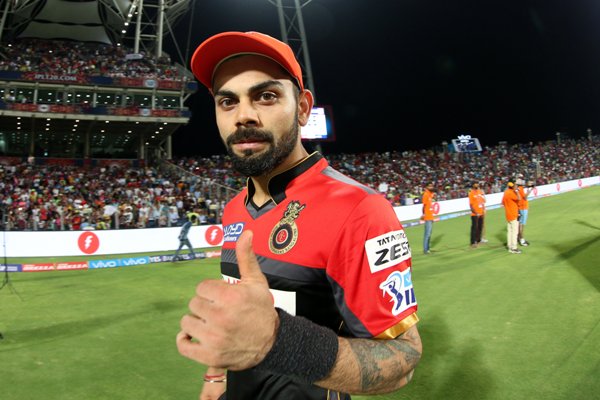 "The IPL is a different ball game. These guys (the Aussies) will be speaking a different language," Sandhu said. "They are professionals and the kind of money they get here they will play without a problem."
Kohli's twin tweets on Thursday, Coutinho felt, was "done with the IPL in mind."
"If one watched his press conference, it's clear he wanted to defriend all Aussies," Coutinho said. "Now he says a couple of them are his foes, not all."
So what has Kohli got to lose?
According to a report published last year, Kohli and M S Dhoni charge anywhere between Rs 6 crore (Rs 60 million) and Rs 10 crore (Rs 100 million) a year, depending on the tenure and terms of contract.
That report quotes ad filmmaker Prahlad Kakkar, who has worked extensively with brand Pepsi in the past, as saying, 'Yes, the IPL has opened up opportunities for a lot of players and brands should be looking at some of them seriously. But before they (the players) can take the plunge into the world of brand endorsements, they should pay attention to their perception, personality and image building. That is key.'
The IPL has had its fair share of bad press, what with the spot-fixing controversy.
Kohli himself has had run-ins with players from other franchises, most notably with KKR's Gautam Gambhir and a meltdown of sorts at the Wankhede four years ago.
I guess the last thing the BCCI and the money-spinning league needs is a man of his position to get embroiled in another row.
Share This Post