Apart from being multi-faceted, Denis Compton was also notoriously forgetful. A perennially distracted Compton had an infamous reputation for running his partners out.
But his absent-mindedness is best encapsulated in a story that goes back to 1955. With England slated to play South Africa at Old Trafford, Compton arrived at the ground without his kit bag.
Unflustered, he entered the stadium museum and pulled off a bat from one of the shelves.
Such was Compton's incalculable genius that he managed to score 158 and 71 even with an antique bat. Despite his efforts, England lost the game by three wickets.
Compton was unfussy about his equipment -- in those days, the importance of a batsman's ability easily eclipsed the quality of his bat.
The size of the bat that he had picked up from the Old Trafford museum didn't perturb Compton.
Times have clearly changed, and how.
Without doubt, ability still remains cricket's most significant prerequisite for any tangible batting success. But the bats play their role.
If compared with the blades going around these days, Compton's bat would look no bigger than a toothpick.
If Compton ever had the chance to look at David Warner's bat, for instance, the Gray-Nicolls Kaboom that weighs 2 lb 7 ounces, he would have been staggered by its enormity -- bats don't have edges now, they have sides.
Compton himself used one that weighed only 2 lb 2 ounces, but the wood used these days is lighter and vastly potent than it was 60 years ago.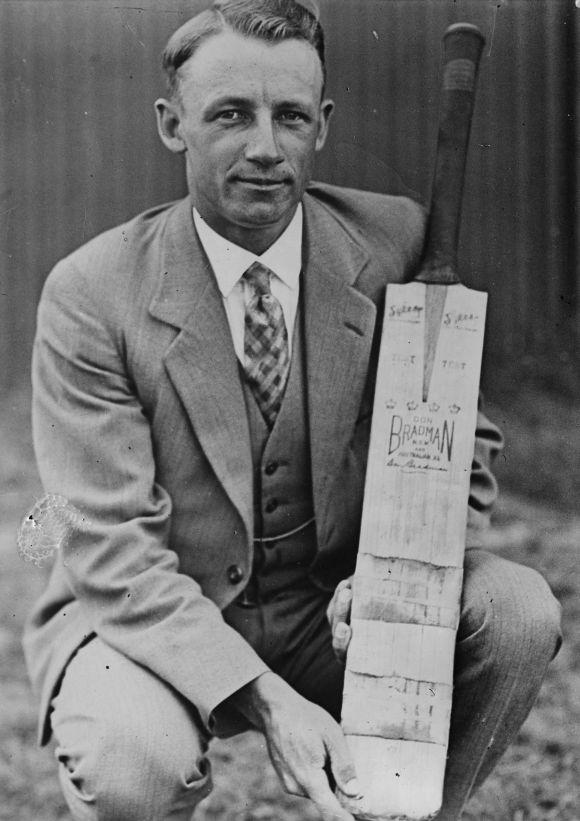 Wally Hammond, the great English middle-order batsman from the 1930s and the 1940s, once said that 'a good shot is one that controls the ball.'
That dictum doesn't hold true in cricket anymore -- with modern bats, there is very little you can control.
The ball rockets if you like it or not -- no batsman minds that, of course.
You can understand why the Marylebone Cricket Club has decided to clamp down on bat sizes.
Bats have bigger sweet spots, the boundaries are shorter, pitches are loaded in favour of the batsmen, and mishits comfortably travel for six.
Moreover, the psyche of batsmen has undergone an astonishing transformation -- with ridiculous self-belief comes the conviction that no score is impossible.
All this is an accurate reflection of the slam-bang nature that dominates cricket today; an attempt at restoring the balance between bat and ball was perhaps needed.
The new maximum permitted dimensions of a cricket bat will be 108 mm in width, 67 mm in depth with 40 mm edges.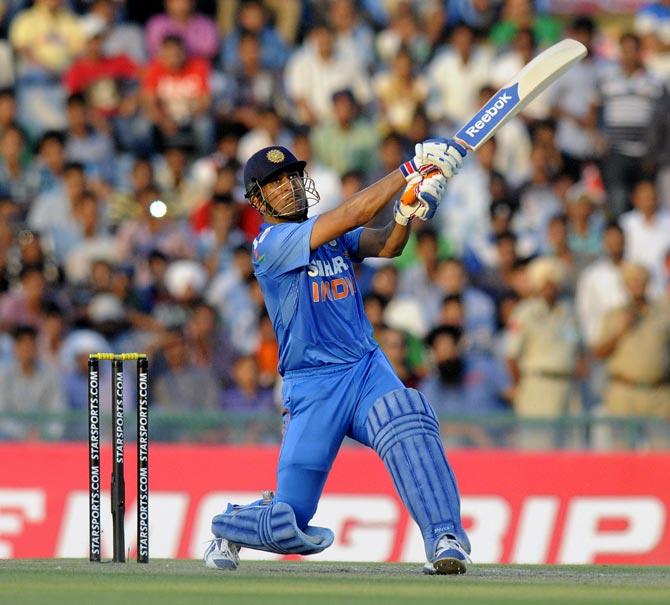 The edges of Warner's bat, for example, are more than 50 mm in size.
The one that Mahendra Singh Dhoni uses also has edges in excess of the new limit.
Ditto for Chris Gayle and Glenn Maxwell.
Come October, when the new regulations are enforced, all these bats will have to be moved to the memorabilia corner.
Cricket historians point out that in 1905, the thickness of bats was 16 mm, and by 1980, it had increased to 18 mm.
A few years ago, former Australian captain Greg Chappell wrote about how Don Bradman would have averaged 120 if he played with modern bats.
Bradman's weapon of choice was a Sykes willow that weighed a little over 2 lb 3 ounces. His bat had a classic design: A roundish face with a V-shaped back.
The sweet spot was tiny, and Bradman relied purely on touch and placement.
No wonder then that he finished his career with just six sixes.
Neil Harvey, a teammate of Bradman's and one of the fabulous entertainers of his time, used a bat that was about the same size as the Don's.
He, too, was dependent on dexterity. He could dominate Subhash Gupte with ease, wielding his bat like a walking cane with the flourish of a ballet dancer.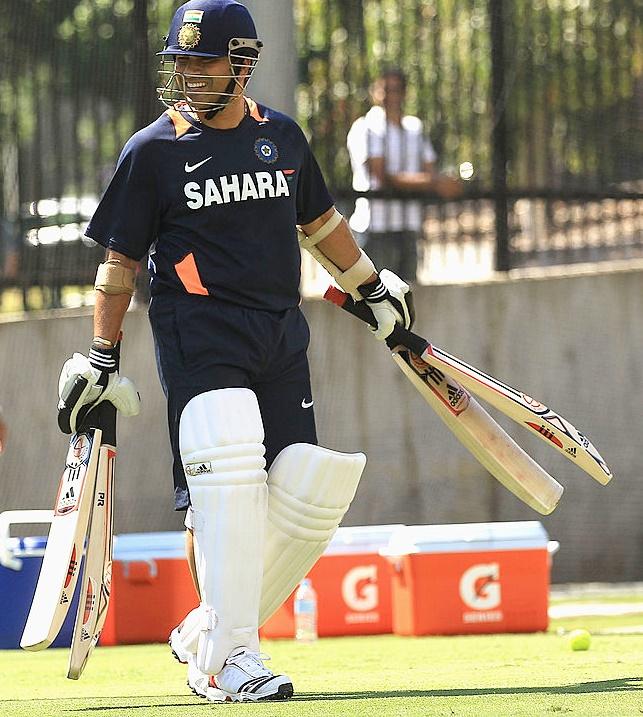 Big bats are nothing new. However, their wondrous sophistication is.
Graeme Pollock used one in excess of 3 lb, but it wasn't meaty like the ones we see today.
Moreover, with Pollock being a vertical-bat player, a heavy blade wasn't necessarily a problem for him.
It was similar for Sachin Tendulkar, who used a 3 lb 2 ounces bat.
The bats these days are pressed, bowed and shaped concavely like never before.
Back in the day, bats were hard-pressed for greater durability. Now, they are pressed the optimum amount, for better elasticity.
Naturally, most of them don't last very long. Sourav Ganguly was known to carry loads of bats in his bag.
The problem with huge bats is rather easy to understand: they limit natural ability.
It's like handing Lionel Messi a pair of scientifically developed super boots to make him even better.
The big boys -- the Dhonis and the Gayles -- are likely to survive this skirmish.
A diminutive fellow like Warner might find that tougher.
Either way, the sight of Dhoni stopping play and swinging two bats in the 44th over of a match may soon become a thing of the past.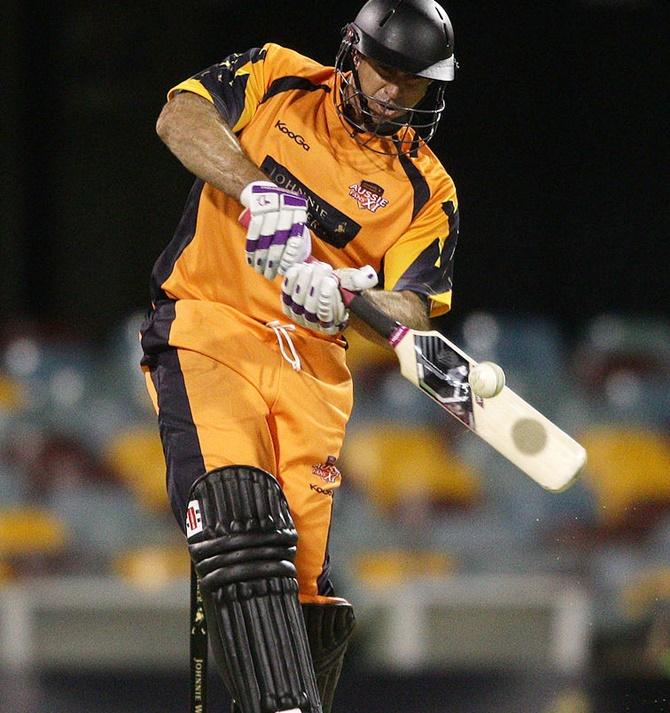 During the 2010 season of the Indian Premier League, Matthew Hayden introduced the world to the mongoose, a long-handed, short-bladed bat that came with a larger sweet spot.
This wasn't the first time a batsman had walked out with a quirky piece of willow.
In 1979 at Perth, Dennis Lillee walked out to the middle with an aluminum bat in hand, but the mongoose clearly stood out for its strange design.
The mongoose's thicker edges added more weight to the willow, resulting in greater impact when ball met with bat.
More important, the dynamics of the mongoose were such that ensured better control and considerably enhanced Hayden's bat speed.
But there is a reason why the bat has only been used in shorter formats: Its longish handle makes it difficult to face a ball banged in.
While Hayden enjoyed massive success with the mongoose, players have seldom used it in international cricket.
Other innovative bat users include Englishman Dennis Amiss, who used a bat with conical holes drilled through its face. It actually whistled when he played an attacking shot.
Share This Post