A simple Google search regarding the obesity rate in the UAE will quickly yield two oft-quoted statistics: The World Health Organisation (WHO) reports that over 36 per cent of children in the country are obese, and the University of Washington's Institute of Health Metrics and Evaluation reports that 66 per cent of men and 60 per cent of women are overweight or obese. It only takes a casual stroll down our neighbourhoods to experience this reality. But, we don't really stroll down our streets much anyway. And, that's only part of the issue here. A healthy lifestyle is as much about activity as it is about the food we eat every single day - even on the much awaited "cheat days" while we pursue the latest "in" diet.
Moreover, we do far more long-term harm to our bodies (and emotional state - hangry, anyone?) by skipping from one food category restriction to binge eating to yet another restrictive diet in rapid progression. Multiple research studies on fad diets over the past decade have shown that this kind of yo-yo dieting causes deficiencies of varied vitamins and minerals (that we then try to fix with supplements).
Being fit is a lifestyle choice that needs to be incorporated into our routines - whether it is through an activity we enjoy or through the foods we eat everyday. One way to slowly form healthier eating habits is to give our favourite fast foods a makeover. Think: a lettuce wrap instead of a thick bun or even a cold cut of meat wrapped around vegetables if you've taken the Paleo leap (eat like our ancestors did; no processed foods).
Let's use the abundant food choices in the UAE to our advantage - and give "playing with food" a new definition. The next time you order in or eat out, swap different parts of your meal and see who ends up creating a great dish. Soon enough, we'll all have created UAE's new story - fighting obesity is fun.
Saying no to junk food is an adventure that is more enjoyable when the entire family is in on it. At the same time, getting the whole jing-bang on a clean eating route can prove to be a challenge. UAE resident Belinda Suares tried the clean diet with her entire family and lost seven kilos in the bargain.
"We adopted the ketogenic diet for two months. It involves no carbs and sugar intake. Lettuce became our chapati," says Suares. She recommends the keto-diet with a word of advice. "Plan meals in advance, and find a set of friends to adopt this diet with you - this way quitting junk won't be a task."
Her choice to ditch junk enabled her to drop multiple dress sizes in a matter of a month. "I had to shop for new clothes - which is an amazing feeling."
This low-carb diet seriously requires willpower. Surprisingly, the youngsters of the family - Danielle, 17, and Abigail, 12, also rose to the task of eating clean with excitement. Are you up for a challenge?
One of the healthier habits to include in your daily routine is to carry a bottle of water with you. Just in case you forget to bring water along, make it your go-to order. If you miss the fizz, try sparkling water.
Local cafés are a must-stop for a health fix. Try off-beat juice combos at Jabal Al Noor, Al Ijaza Cafeteria or Tasty Bite. If you're in the JLT area, try Pressman's Pressed Sandwiches for the 100% fruit smoothies. At McDonald's or Wendy's? Try the blueberry, pomegranate, apple or orange juices. KFC Krusher's include a refreshing Mojito. Food trucks like SALT and Mooyah have great lemonades.
A recent study published by the AJCN (American Journal of Clinical Nutrition) shows that people who consume fried potatoes more than twice a week are at an 'increased risk of mortality.' But, you have no reason to fret if you're tucking into the right kind of fries. Whoever thought of these deserves an applause.
Sweet potato fries
A strong contender against the regular fries has made its way onto the food scene across the UAE.
Grab your grub at: SALT food truck and Circle Café
Avocado fries
Avocado has been long labelled as the 'good fat', and this should be reason enough to make the switch.
Grab your grub at: Tony Roma's Steakhouse Restaurant
We'd like them on the UAE menus. Chefs, take note.
Baked zucchini fries
Devoid of saturated fats and cholesterol, zucchini ticks all the right boxes. It's best paired with Greek yoghurt.
Carrot fries
Trending and tasty, carrot fries are your Vitamin A fix - made delicious.
Asparagus fries
Break away from the monotony, and give this a go.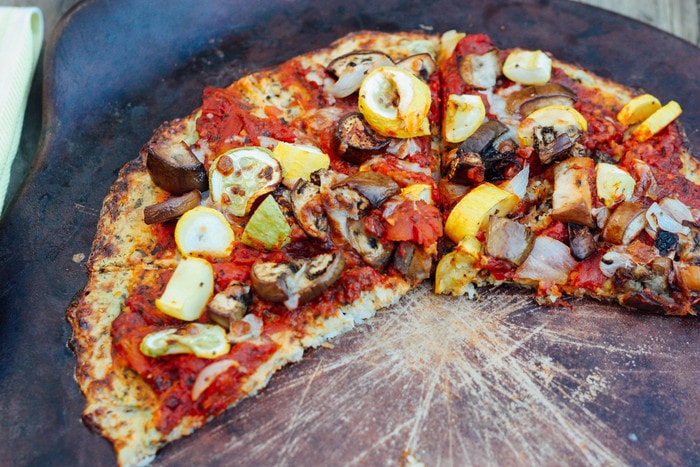 It's almost impossible to imagine a recipe that ditches its main ingredient - bread. No-bread pizza isn't flimsy; it's delicious and low on carbohydrates. Highly recommended.
How can you ditch the dough?
Cauliflower
After making its mark with cauliflower rice and nachos, a cauliflower base for a pizza seems like the best way to go no-bread.
Grab your grub at: Heat Cafe & Grill, Umm Suqeim
Mushroom
In an interesting role reversal, a former topping recently turned into a base. You won't miss the bread.
Grab your grub at: Moreish Café, Oud Metha
Zucchini and Broccoli
The perfect base for calorie counters, you might want to gorge on a gut-friendly and gluten-free zucchini pizza once in a while. Recently crowned the UK's favourite vegetable, broccoli is slowly, but steadily becoming a favourite in the UAE too.
Grab your grub at: Wolf & Friends Lounge, JLT
Nothing like a sandwich for ultimate comfort on-the-go? Always go for the grilled option. Fun switches include:
Lettuce wraps
Any burger at Mooyah, Gourmet Burger Kitchen, Which Wich's Superior Sandwiches, and Sandwichy can be put together within a lettuce leaf or two. Also, try the Delifresh Low Carb at Max Burger, the Low Carbonator at BurgerFuel, and the Thai Lettuce Wraps at The Cheesecake Factory.
Corn tortillas
Replace flour with corn at Taqado Mexican Kitchen, Baja Fresh, and The Cheesecake Factory.
Vegetable buns
Think of your favourite fillings between thick slices of mushrooms, avocados, tomatoes, cucumbers, and even aubergine. An offshoot of this concept is available at Wolf & Friends Lounge and Slider Station with the flavoured buns on their menu while Gourmet Burger Kitchen has gone bun-less.
Bread choices
If you do include the bun, opt for choices like the multi-cereal at Pressman's Pressed Sandwiches or the Chickpea Flour Mufellatas at 77 Veggie Boutique. Or go the old route, try the variety of breads available at Subway - we love the Honey Oat and Sesame. What is your favourite?
It's food with little to no nutritional value, which does you more harm than good. It is just wasted calories. Healthier eating is a global trend and is definitely here to stay; it is infiltrating all areas of food and beverage from school meals to fast foods. The key is to make alternative options attractive for them - convenient, great taste, and reasonable price.
A junk food item that you'd swap for a healthier option?
Sugary soda drinks are perhaps the greatest waste of calories that are so readily available and consumed by the masses; I support the UAE government's progressive excise tax on these items as they are unnecessary and very harmful. We recently added Coke Life to our menu, which is a healthier alternative, sweetened with Stevia. Also, we offer a bunch of organic, vegan and gluten-free pizza options. Lately, they've been making up for a greater share of our overall sales. It just goes to prove that the public is paying more attention to what they are eating. Small changes in diet can make a big difference to the health of a nation.
Is the UAE slowly leaning towards HEALTHY junk?
People in the UAE, like everywhere else in the world, are getting more aware and concerned about what they are eating. You only need to look in the historically packed food courts at the shopping malls here to see that the tastes are changing. Mall managers are moving away from the food court model and actively seeking out healthier concepts in their stead.
Share This Post