The chief of police in Minneapolis has resigned at the request of the city's mayor, Betsy Hodges, after Hodges said she had "lost the confidence of the people".
Janeé Harteau has faced criticism for her handling of the shooting of unarmed Australian woman Justine Damond, as well as previous killings going back to 2013.
"I've lost confidence in the chief's ability to lead us further," said Hodges in a media statement. "And from the many conversations I've had with people around our city, it is clear that she has lost the confidence of the people of Minneapolis as well. For us to continue to transform policing ... we need new leadership at [Minneapolis Police Department].
Hodges' own media conference later on Friday evening quickly descended into chaos as protesters angrily called for the mayor to resign as well, saying they "had been terrorized enough". The crowd – a coalition of community groups pushing for police reform – drowned out her comments with chants of "Bye bye Betsy."
Echoing the catchcry used in calls for justice after the 2016 shooting death of Philando Castile, they shouted: "If Justine don't get it, shut it down." The initial round of protests were led by Jonathan Thompson, a friend and coworker of Castile.
After the room was cleared and the conference restarted, Hodges said it had been a "heartbreaking and challenging and awful week for the people of our city".
"I share people's frustration about the pace of change in our policing and building community trust. Transformational change is difficult, it is uncomfortable and it takes time," she said.
Hodges nominated assistant chief Medaria Arradondo to be the next chief. Nicknamed "Rondo", he served as the department's public face after Damond's shooting while Harteau was on personal leave. Arradondo, who is African-American, has been with the department since 1989.
Reached after the protest, Thompson said it was important that he had confronted the mayor in front of an assembled crowd of reporters that included many Australian journalists.
"Betsy Hodges was trying to appease the international press, trying to say, 'I did something about it. I did something really good. I asked the chief to step down,' and thinking that's going to end what's happening, but it's not going to end nothing," he said.
Thompson, who now runs an organization called New North, added that he hoped Australians would find ways to get involved. "The fight for Justine is not over. It's just begun. We got a lot of allies. We need Australia right here with us ... and we won't stop fighting for Justine and victims like Justine."
Mel Reeves, a long time community activist in Minneapolis, was part of the group that stormed the media conference. He said that initially they had just planned a street protest, but went to city hall when they heard about the meeting, and after a few failed attempts, managed to get inside.
"What you witnessed there was frustration. The frustration in this city is building over. The international community needs to understand that the Minneapolis Police Department has been a very abusive one. The killings are just the tip of the iceberg. People get brutalized on a regular basis," he said.
Harteau on Thursday attempted to distance the police department from the actions of officer Mohamed Noor, who shot the unarmed woman after she made an emergency call to police. She said the killing "shouldn't have happened".
The death of Damond, 40, who was fired at multiple times through the open window of a police patrol car, has outraged her relatives and the public in both Australia and the US. The Australian prime minister, Malcolm Turnbull, called it "shocking" and "inexplicable".
In her resignation statement, Harteau said: "Over the 30-plus years that I've served as a police officer in the City of Minneapolis, moving up through the ranks to police chief, I have woken up every day knowing that this job is not about me. It is about the members of the communities that we serve and the police officers who protect our residents. I am proud of the great work the MPD [Minneapolis Police Department] has accomplished...
"However, last Saturday's tragedy, as well as some other incidents, have caused me to engage in deep reflection. The recent incidents do not reflect the training and procedures we've developed as a department. Despite the MPD's many accomplishments under my leadership over these years and my love for the city, I have to put the communities we serve first. I've decided I am willing to step aside to let a fresh set of leadership eyes see what more can be done for the MPD to be the very best it can be. The city of Minneapolis deserves the very best."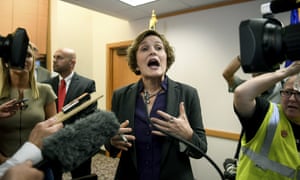 Noor has refused to speak to investigators, which Harteau earlier described as his "constitutional right".
On Monday, Justine Damond's partner, Don Damond, said her death was a loss to everyone who knew her. "Our hearts are broken and we are utterly devastated by the loss of Justine," he said. "It is difficult to fathom how to go forward without her in my life."
Her stepson, Zac Damond, said she was "passionate" and his "best friend".
The family said they planed to bring their daughter back to Australia for a hometown farewell.
"All we want to do is bring Justine home to Australia to farewell her in her hometown among family and friends," a statement said on Thursday.
Damond is believed to have been living in the US for at least the past three years. Her personal website says she trained as a veterinarian and practised yoga and meditation for 17 years.
Linea Palmisano, who represents the ward where Damond died, called for a change in leadership on Friday and told her fellow council members that she was "done with image control and crisis management" and that it was "time for action."
After Harteau's resignation, Palmisano thanked the mayor and her colleagues. She also thanked Harteau for her years of service, but said she looked forward to the start of changes that she felt the department needed to make.
Harteau has spent her career with the department, starting as a beat cop in 1987 when she was just 22. She worked her way up the ranks and in 2012 was appointed chief, becoming the city's first female, first openly gay and first Native American police chief.
Share This Post