I've always known that my country, the Philippines, is a piece of paradise on earth. But it was only a few years ago when I started working and earning my own money that I realized that my home country is truly unlike any other place. The more I traveled, the more I discovered the beauty of the Philippines.
The Philippines is made up of 7,107 islands (only 2000 are inhabited), each one offering a rich biodiversity ranging from tropical rain forests, mangroves, and coral reefs to mountain ranges, world-class beaches, beautiful islands and a diverse range of flora and fauna. Conservation International identified it as one of 17 megadiverse countries in 1998.
The country also offers one of the longest white sand coastlines in the world, one of its many tourist attractions. So, if you're looking for a tropical getaway and still don't have a destination in mind, odds are you'll find something you like in the Philippines.
Here is my list of the Philippines' best beaches.
This is the pink beach in Sta.Cruz, Zamboanga currently listed as one of the most beautiful pink beaches in the world.. | Source
1. Boracay, Aklan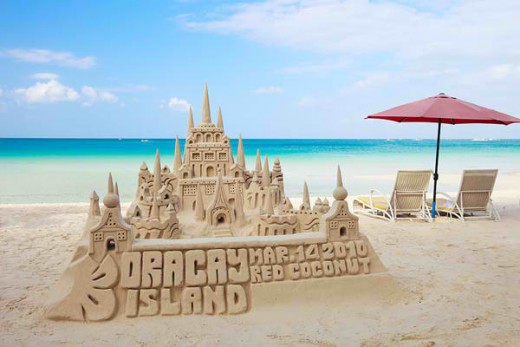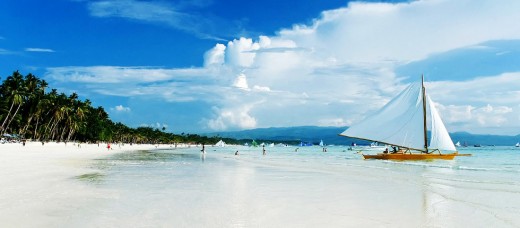 Boracay is a small island 315 km south of Manila in the province of Aklan. Famous for its powdery white sands and pristine blue waters, Boracay is one of the most popular tourist destinations in the Philippines. It has over 350 resorts and about 2,000 rooms to accommodate guests, which range from luxury hotels to budget-friendly inns.
This island has something for everyone, from water sports, scuba diving, and snorkeling, to nightlife with great pubs, bars, and restaurants, to a relaxing and tranquil environment.
If you do go scuba diving or snorkeling, you'll see many species of aquatic life that are indigenous to the Philippines. You could also take the opportunity to go helmet diving, which is where you simply put on a helmet with glass plates, climb a ladder down ten feet to a (shallow) ocean floor, and walk around as if you were on land.
The Beaches
The best and most famous beach in Boracay is the White Beach, which has been called the "finest beach in the world." In 2012, Boracay Island was named "Best Island in the World" by international travel magazine Travel + Leisure. Puka, on the northern side of Boracay, was also on CNN's 100 Most Beautiful Beaches in the World.
For 2016, international travel magazine Travel + Leisure ranked Boracay island as the 2nd best island in the world after Palawan which is also a famous Philippine island off the southern part of main island Luzon. In 2017, the famous travel site TripAdvisor ranked Boracay's white beach as the 24th best beach in the world.
While the western side of the island is known for the White Beach, the eastern side is home to Bulabog beach, which is a great place for extreme sports like wind and kite surfing since it has strong winds all year round.
Update: Travel + Leisure magazine ranked Boracay 3rd best island in the world for 2017 alongside Palawan (also Philippines) and other world-famous islands like Santorini in Greece, Maui (Hawaii), Bali (Indonesia) and Galapagos Islands in Ecuador.
More Details
When to Visit: Waters are calm off of White Beach from November through May. Monsoon winds blow June through October. Unless you enjoy being soaked, aim to visit between November and May, though you'll have fewer crowds June through early October.
How to Get There: There are no direct flights into Boracay. To get there, you either need to fly into Caticlan (the closest airport) or Kalibo (an airport further away that sometimes offers cheaper flights). Then, you'll need to take a vehicle to Caticlan Jetty port for the 10-20 minute boat ride to Boracay.
What to Do: For extreme sports, visit the east side of the island for your fair share of kite and windsurfing. For the resort lifestyle and relaxing on the beach, stay on the west side and party it up at night.
What It's Known For: The White Beach
...[ Continue to next page ]
Share This Post