Papaya has rightly been named as the 'angel fruit' due to its versatility and amazing properties. It is a wholesome and nutritive fruit and a rich source of nutrients, vitamins, and minerals that keep the body's systems in optimal health. It is not only an excellent aid for digestion, but it is also very beneficial for the skin when used topically in the form of face packs (1).
This article talks about the various face packs that use papaya along with other ingredients to reap the maximum benefits of this versatile fruit. Before we get to the packs, let's take a look at the benefits of this fruit for the skin.
Benefits Of Using Papaya As A Face Pack
The potassium present in papaya hydrates the skin and removes dullness and dryness.
Papaya contains high amounts of vitamins A and C. These are antioxidants that reduce the formation of free radicals that are responsible for premature aging.
The flavonoids in papaya help increase the collagen production in the skin, which makes the skin soft, firm, and supple.
Ripe papaya contains BHA (or beta hydroxy acid) that acts as a mild exfoliator. It gently removes the top layer of dead skin cells from your face and makes your skin radiant and younger looking. It also clears the dirt and oil that can lead to acne and breakouts on the face.
It contains a special enzyme called papain that removes dead cells and other impurities present in the skin. It unclogs pores and removes excess sebum from the skin that may be making it oily and prone to acne.
Rich in healing enzymes, papaya can be also used to treat sunburns or soothe irritated skin.
Papaya is also used to even the skin tone byreducing dark spots and blemishes on the skin.
Since it is an antifungal compound, it can help to treat topical fungal infections.
With such a wide range of benefits, papaya is a fruit you should definitely include in your skin care regimen (2, 3, 4, 5). It is suitable for all skin types. Read on to know how to use this fruit in a face pack for your skin type or to deal with a particular skin issue.
Homemade Papaya Face Packs For Different Skin Issues
1. Papaya And Honey Face Mask For Dry Skin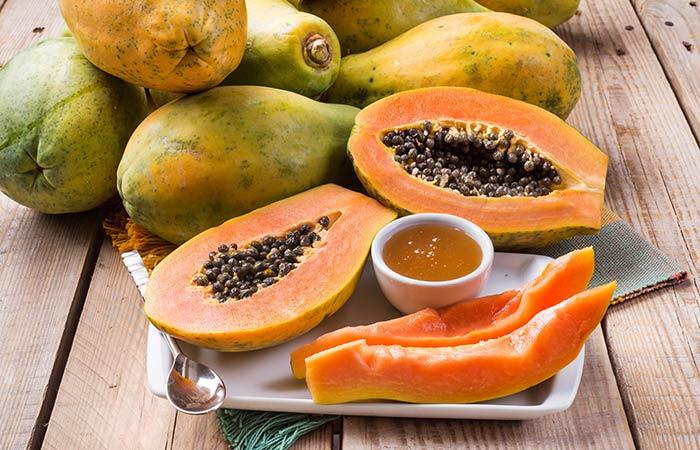 ...[ Continue to next page ]
Share This Post