I am obsessed with breakfasts. It is my favourite meal of the day. I like trying out different types of breakfasts and make it a point to seek out local favourites while travelling. However, I am not a morning person. When at home in Mumbai, I usually prefer to breakfast at cafes such as Candies or La Folie or Smoke House Deli or Salt Water Café or the Bombay Coffee House, in the suburb of Bandra where I live, and even work out of them. While I love cooking, I would never push myself to make my own breakfast in the morning.
Breakfast Stories From Vintage Mumbai
I rarely travel far for breakfast when in Mumbai, but if I was to, then I would head to South Mumbai for it. South Mumbai is the hub around which modern Mumbai was built. It has history, character, colour and life, and if I was to be a tourist in my own city, then this is where I would hang out. South Mumbai is home to many eateries which one could consider to be heritage restaurants. The age of these places could vary from anything between fifty to a hundred and fifty years old. Some are iconic, the others local favourites even if not very well known. The food here represents the food of the many immigrant communities who had come seeking their fortunes in Mumbai and the restaurants were first set up to feed them. It's usually lip-smacking and indulgent, not very expensive and is quite fresh too.
The places are fairly neat and clean though they do not look very posh and most are not air-conditioned. These places are usually packed with regulars at meal times and sharing tables, if alone, is a norm. You will not get health food here so do not go in looking for quinoa and kale salads or cold pressed juices or almond milk cappuccinos or gluten free sourdough breads or tofu sausages. There are a number of new age cafes mushrooming in places such Kala Ghoda and Colaba where you could find them though. After all, Mumbai is a very accommodative city.

Here's a list of some of my favourite 'heritage' breakfast places in South Mumbai from where you could start your Mumbai explorations.
1. Colaba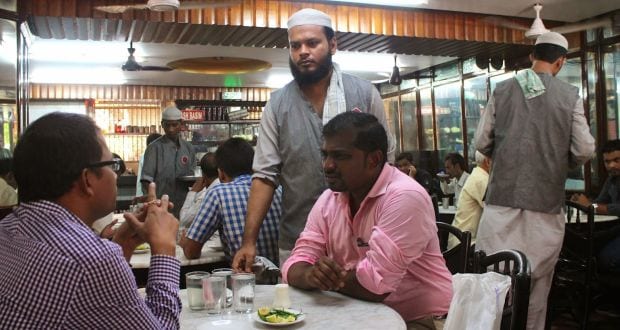 Colaba is the southern tip of the city. Old Mumbai food mavens will tell you that the most legendary breakfast option here is to be found at the Olympia Restaurant, which is located opposite Leopold Cafe. This was once an Irani café. The current owners have retained the look and feel of yore in the ground floor and have run the place for around sixty years. You go there to have the kheema (minced goat meat curry) with pav (soft bread buns) and some hot milky chai on the side. The quality of the dish depends on the quality of the meat that day. You will know that you will have a good day when you have been served a stellar portion of kheema that day.
If vegetarian fare is what you are looking for, then Kailash Parbat at Colaba, is where you should head to. There are two of them located opposite each other in the lane after Theobroma. I have had the chhole bhatoore for lunch at one of them and the lovely jalebis at night. My food blogger friends, Alka Keswani and Jai Kumar Puri, who are Sindhi recommend Kailash Parbat as one of the most iconic places to try out a Sindhi breakfast. Of the two outlets, Kailash Parbat Hindu Hotel is the original one says Jai. Both have their share of loyalists. He says that you should try the koki, dal pakwaan, as well as chaats such as the pakode chaat and samosa chaat and, if are up to it, the chhole bhatoore which can make for quite a gigantic breakfast.
If you want a more 'western' breakfast of sausages and eggs and coffee and toast, then Café Mondegar is the place to check out. It is not as old as Café Leopold next door but it can claim to be more of a favourite with Mumbai locals, Leopold is more the hub of the Lonely Planet lugging crowd.
Colaba is also home to the one super posh breakfast experience in Mumbai that I would recommend splurging on. There is no better way to feel like royalty in Mumbai, I feel, than to go to the Sea Lounge at the Taj Mahal Palace Hotel for breakfast. Try to get the window seat as that's what makes the experience really special. There is nothing like a side order of the view of The Gateway of India along with your eggs benedict after all; and if you are lucky to have one of the more elderly wait-staff serving, you can expect to be really pampered.
2. Fort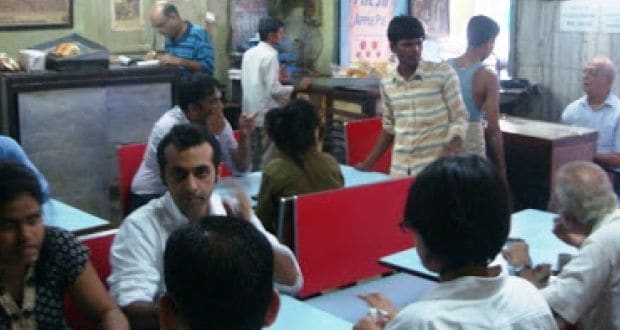 Fort in South Mumbai was the city's original CBD (central business district). It has lost a bit of its sheen after places such as the Bandra Kurla Complex and Malad and Saki Naka developed as business hot spots. I had the good fortune of working out of a heritage office building at Fort for a few months, and since then Fort became my favourite place to eat at in Mumbai.
If at Fort, you must go to the sixty-year-old Yazdani Bakery, which is down the Mahesh Restaurant Lane. Have some hot milky sugary chai at this Irani bakery, and dip freshly baked crusty brun or soft buns, sliced and then slathered liberally with maska (salted butter, usually Amul), into your tea. The confluence of the salt of the butter and the sugariness of the tea is as holy as it gets for food lovers. You would be likely to bump into one of the owners there and chatting with them can always give you interesting stories to dine out on in the future. Their ancestors had come to Mumbai from Iran some sixty years back and had set up this bakery.
If you want something more substantial than just bead butter and tea, then go to Café Military, which was established in 1933, for the best kheema ghotala that you will get in the city in my books. Kheema ghotala is a dish where an egg is scrambled into a kheema before it is served and is a specialty of Irani restaurants across the city. You should mop this up with soft bread and don't forget to have the caramel custard before leaving. This too is one of the best I have had in the city.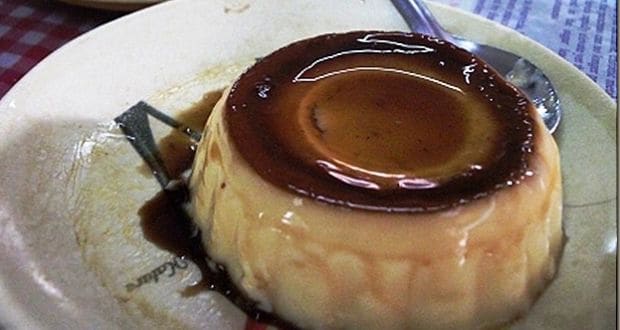 While Matunga is the hub for South Indian Udupi run restaurants in Mumbai, Fort is home to my favourite restaurant in this genre. I am talking of Hotel Swagath which is in the Strand Book Store Lane. This thirty-year-old place does some brilliant Udupi tiffin breakfasts featuring freshly made dosas and idlis and vadas, all served with coconut chutney and a sambar which is not too sweet. They serve a pretty good filter kaapi too. You can request them to not add sugar to it if you so wish.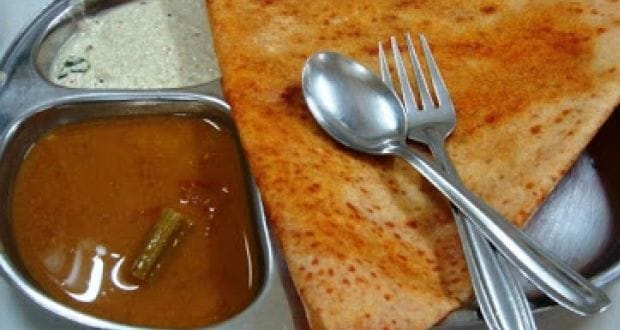 Another interesting South Indian breakfast option at Fort is to be found at Hotel Deluxe. The breakfast menu there features Keralite favourites such as the egg roast which you can pair with freshly made appams or dosas too. This place is packed with Keralites who work in this area and that's the biggest stamp of approval that their food can get. I love the food here too.
I had mentioned dal pakwan, the Sindhi breakfast of champions (it's quite a heavy dish) earlier. Well, you can also get it at Punjabi Moti Halawai at Fort too. This is a sweet shop which is located in the lane leading to Yazdani. The place was set up by a Punjabi family which had moved to Mumbai after the partition and who, through the dint of their hard work, rebuilt their lives again, serving some lovely and honest meals in the process. Do not, and I say this most seriously, do not leave the shop without having a lassi here. It has the power to keep you going through the day.
...[ Continue to next page ]
Share This Post